DEMING, N.M. – That's right, Deming. D-E-M-I-N-G, population 14,605, about 100 miles due west of El Paso, right off I-10.
Believe it or not, that's where we spent Friday night on Day 2 of Road Trippin' 2016 after our stops in Midland, Texas, and El Paso, where once again these Cowboys fans who just can't wait for the football season to start all over again turned out in droves. And I mean droves.
Leave it to Emory Tyler to know about Deming. Says he spends the night here a lot on his trips between Dallas and the West Coast. We've decided instead of identifying Emory as the Cowboys' Bus Driver, we're going to start calling him America's Guest. I mean, everyone seems to know Emory, no matter where we go. And if they don't, they soon will once they meet him.
And for sure, everyone understands that big blue star on that white bus. Even in Deming.
We got in late, checked into our hotel where Emory says he often stays, then went over to IHOP. We were starving. Parked the bus out front, and it started. We could see out there window a stream of cars circling the place. No one really came in. Like the four of us, including Rowdy and Jacob, were the only ones in there eating that late, along with one other guy.
Until the Highway Patrol and a local squad car pulled in when we were leaving. Of course Emory made friends. Told them who we were, where we were going, and evidently he mentioned my name. One of the officers then says, "You mean Mickey Spagnola is on the bus?"
Goes to show you, better behave yourself no matter where you are. Even in Deming, N.M.
So we're on our way on Day 3 to Tucson and Phoenix. Noon in Tucson at Famous Sam's and then 6 p.m. in Phoenix (actually Peoria) at Salty Senorita. This now after our stops at the Cowboys Pro Shops on Friday in Midland and El Paso.
The folks in Midland were great, a steady stream coming through the Pro Shop as we signed autographs, took pictures and had a good time interacting with Cowboys fans. Rowdy was the hit of the stop. Especially when he still-stood in the window display with the mannequin and at one point bounced into the nail salon next door to startle all.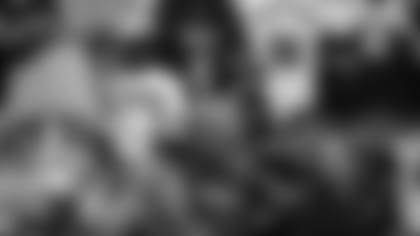 But the Cowboys fans in El Paso once again were overwhelming, if you consider people started lining up outside the Pro Shop in the 100-degree heat at like 4 p.m. for our anticipated 6 p.m. arrival. I can attest. There were a lot of sticky T-shirts when huddling up for pictures once we got there, proceeding to sign for another three hours straight.
Stealing the show, though, were the grade-school-aged group of cheerleaders in uniform who performed for the many fans inside the store. And I mean performed. Meet the Eastside El Paso Cowboys Cheerleaders, about a dozen strong. Ernie Hinojosa has been running this group for 13 years.
And the girls had their stuff down, and why not. They practice three times a week; once in the gym on Tuesday and then Thursday and Friday out on the field when the football teams practice. If no one in El Paso was aware of this group, well, they are now, with all the TV cameras and photographers shooting away.
Met so many appreciative Cowboys fans. Even the guy who basically forfeited two $1 bills by inserting the picture of Cowboys owner Jerry Jones and one of Jason Witten perfectly over ol' George. Yep, we signed those, too.
There was Rudy Loredo, in charge of the swelling Cowboys Love Fan Club. And what seemed like the hundreds of families, with kids small and large, with just one child or maybe five, coming through the line for pictures and autographs. Raising these kids right, I say.
Most surprising, and maybe it shouldn't have been, was how these fans gobbled up the stack of Cole Beasley 8x10's I brought with us. While those pics were being thrown away during the mad Ranch cleanout before the move to The Star in Frisco, they were being gobbled up everywhere we've stopped so far after I first brought them out in Lubbock, and then in Midland and El Paso.[embeddedad0]
And so we go on this beautiful Saturday morning toward Tucson, our band of four continuing to make our way toward Oxnard, Calif., for the start of Cowboys training camp next week. The first practice is just a week away, July 30, at the River Ridge Sports Complex. These people can't wait, even with the Cowboys coming off that 4-12 highly-disappointing season of 2015.
They, too, are excited about the acquisition of Ezekiel Elliott. They, too, are excited about the propositions of this Cowboys offense, providing the Cowboys can keep Tony Romo in one piece. They, too, have worries about that defense, and rightfully so.
Yep, they, too, can't wait to get that bad taste of 2015 out of their mouths.
2016 ROAD TRIPPIN' ITINERARY
Saturday, July 23: Noon (MST), Famous Sam's (7129 E. Golf Links Rd.)
6 p.m. (MST): Salty Senorita, 811 W. Paradise Lane, Peoria, Ariz.
Sunday, July 24: 3 p.m. (PDT), GameWorks, Town Square, 6587 Las
Vegas Blvd., Las Vegas Nev.
Monday, July 25: 5 p.m. (PDT), Saddle Ranch Chop House, 8371 Sunset
Blvd., West Hollywood, Calif.
At Some Point: Oxnard, Calif., River Ridge Sports Complex