Reviewing the game film isn't that enjoyable after a 20-point loss. The Cowboys were outplayed by the Seahawks in every phase of the game on Sunday. Teams can generally learn a whole lot about themselves after losses, however, so it will be up to the coaches and players to respond against the Bucs in Week 3. I really think the focus the Cowboys display against Tampa Bay will go a long way in predicting their success in 2012. Until then, here are a few of my film study notes from the Seattle game:
After only eight motions in Week 1, head coach Jason Garrett dialed up pre-snap movement on 19 of the offense's 57 snaps (33.3 percent). It would have been more, but the Cowboys were forced to run a lot of static Shotgun formations late in the game once they were losing. Of the 'Boys first 17 offensive snaps, 13 invoked motion. Altogether, the offense motioned on 11 runs (3.45 yards-per-carry) and eight passes (6.50 yards-per-attempt).
Last week, Tony Romo called four audibles, resulting in a run for nine yards and three passes for 90 yards and two scores. This week, his checks weren't so stellar. He again called four audibles: two runs and two passes. The runs went for eight total yards, while the two passes resulted in a two-yard gain and Romo's lone interception.
The 'Boys utilized "11" personnel – one running back and one tight end – on 54.4 percent of their offensive snaps. Against the Giants, that number was only 35.7 percent. The increase was obviously due to game situations, with the Cowboys lining up in Shotgun with "11" personnel on their final seven plays before halftime (before a quarterback kneel) and their last eight plays of the game. 
Romo threw downfield a few times, 12.5 percent of his 40 attempts traveled at least 20 yards in the air, but many of those were low-percentage throws in 3rd and long situations. I counted seven of Romo's passes as being off target. That's an unusually high number for him. He had four off-target passes in Week One.
The Cowboys weren't able to get anything going on the ground either. Of their 13 rushing attempts, only three went for more than five yards. The Cowboys' longest rush on the day was just nine yards.
I posted this same graph last week, but I want to emphasize the point: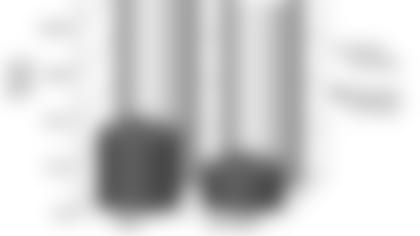 Over the past three years, Romo thrives when a defense shows their intentions before the snap. If they show blitz and blitz or line up conservatively and don't blitz, he generally gashes them. But, Romo struggles when a defense disguises their intentions before the snap – even more so than the average NFL quarterback.
I fully believe the Seahawks were able to stifle the passing game because they mixed up their looks and, at times, confused Romo. I counted Seattle as blitzing (sending five or more rushers) on just 10 plays (17.5 percent). In comparison, the Giants blitzed Romo on 24.5 percent of his snaps. Thus, I don't think Romo struggled because Seattle sent extra rushers.
Instead, the Seahawks were able to disrupt the passing game because they disguised all but three of their blitzes. On those three plays, Romo was 3-for-3 for 60 yards. That's good, folks. On the seven blitzes that Seattle disguised, however, Romo was 3-for-7 for 15 yards and an interception. Further, four of Romo's seven off-target passes were on one of those disguised blitzes.
The Cowboys ran their first counter of the entire season, a five-yard gain for Murray. I'm shocked we haven't seen more counters, as the Cowboys have historically thrived on the running play. Actually, since 2009, the 'Boys have averaged 7.2 yards-per-carry on counters.
Garrett has called for a play-action pass just four times on the season thus far. Those four passes have resulted in 40 yards and a touchdown.
Finally, I thought the Cowboys should have gone for it on 4th-and-3 at the Seahawks' 40-yard line just before halftime. I've already heard those against the move claim that, if they didn't convert, they'd be giving Seattle a chance to score before halftime. Well, isn't the opposite true for the Cowboys? If Dallas wouldn't want Seattle to have the ball at their own 40-yard line with less than one minute left in the half, why would Seattle want the 'Boys to have a first down inside their 40-yard line?
Statistically, the Cowboys should have gone for it if they thought they could convert at least 38 percent of the time. That's the break-even point where the value of going for it exceeds that of punting on a 4th and 3 at the opponents' 40-yard line. I checked my numbers, and since 2009, Dallas has converted 22 of their 40 plays of 3rd or 4th and 3. That's 55 percent.