FRISCO, Texas – The Cowboys have one of the best offensive tackles in the game in Tyron Smith. And we'll see how La'el Collins progresses as he continues to work on the right side.
The Cowboys might have one of the best tandems in the league, but they will see some good ones on the other side of the ball as well in 2017.    
Here's a look at my five best corners the Cowboys will have to play this upcoming season:
#5. Mitchell Schwartz
Kansas City  (6-5, 320)  5th Year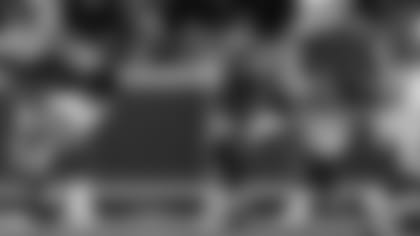 (Plays at Dallas on Nov. 5)
Lines up as a right tackle for the Chiefs. Plays with initial quickness out of his stance. Nice pass set and balance. Can get away from the line with ease. No problem with his movement.
Aware to what is happening around him. Doesn't get fooled on blitzes. Quick to pass stunts off without issues. Does a nice job extending his hands. Can keep defender off his body.
Will adjust to the rusher. Will stay with defender in the running game. More of a shield blocker than a get movement type. Patient blocker, doesn't put himself in bad body positions. Will force the rusher to go wide with his kick/slide.
Has the upper body strength to push his man past the quarterback. Effective in the running game when he has to down block. Knows how to play with angles. Able to get his head in front and drive.
Can get movement. Does a nice job of finishing the block. Good 2nd level player. Is able to get in space, find his target and adjust.
Has to deal with several outstanding rushers in the AFC West and he is able to more than hold his own down after down.      
#4. David Bakhtiari
Green Bay Packers  (6-4, 300)  4th Year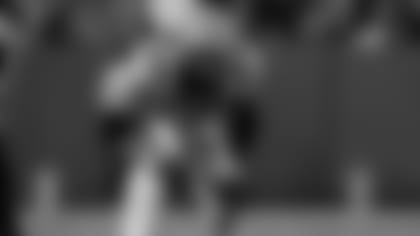 (Plays at Dallas on Oct. 8)
Initial quickness to the outside. Tends to play with a wide base but surprisingly that doesn't affect how he moves. Push-shove blocker. Had problem with his strength in college but has improved on that while in the league.
Will wash his man past the quarterback. Position blocker in the running game. Will hold his ground. Plays on his feet. Don't see him on the ground at all. Understands angles and how to take advantage of them.
Able to adjust on the 2nd level. Will pass off stunts/games with ease. Adjusts well on the move. Does a great job of keeping his head out of the block. Doesn't get overextended or off balance.
Mirror and slides well. Need to beat him off the snap in order to have a chance to get around him. Like the way he is able to adjust dealing with a spin move. Very patient in the way that he plays. Doesn't fall for movement.
Can adjust back inside when rusher takes that path. Athletic enough to pull and play in space. When he locks onto his man, works hard to finish his block.
Nothing really pretty about the way he plays technique wise but you don't see his man in on the tackle. More finesse than power but effective in the way that it works. 
#3. Donald Penn
Oakland Raiders  (6-4, 305) 11th Year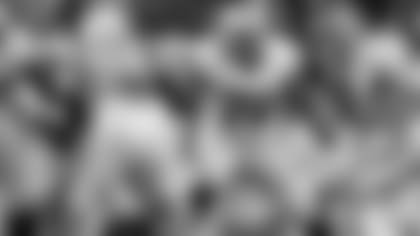 (Plays at Dallas on Dec. 17)
Lines up at left tackle. Generally plays in a left handed stance. Hard man to run through due to his upper body power. Powerful hands. Does a nice job of working his body in position to cut off rusher. Times where he appears beat but is able to rally to get to the outside.
Doesn't give up the inside either. Can take that hard power step inside and stop the rusher. Aware to help out teammate when his man drops in coverage. Can see his eyes quickly scan to find a man to block.
Defenders have a hard time trying to move him. They will try and club his shoulder pad and he will not budge. Good initial pass set. Will kick away from the line to put himself in position to block.
Able to keep the width of the pocket. Will put his head in the block at times but it doesn't knock him off balance. Really good with his hands. When he is able to get them inside can be a real problem for the rusher - not going to get away.
Gets movement in the running game with power. Will pull the defender close to him and then run his feet. Not used much as a puller/trapper.
Scheme usually requires him to stay along the line of scrimmage. 
#2. Joe Staley
San Francisco 49ers  (6-6, 315)  10th Year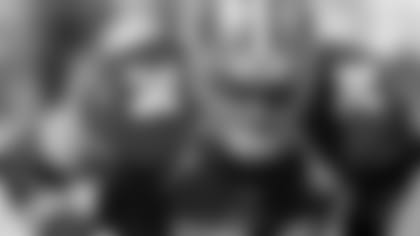 (Plays at Dallas on Oct. 22)
A body with good length and a frame. A good run blocker that is competitive and works to finish his blocks. Gains an advantage with his quickness out of start. Explosive with an impact pop and surge.
Gets movement on short yardage plays. Gains position with quickness and flexibility. Can bend. Can play flat-footed and adjust with lateral slide to movement and blocks two move pass rusher. Rarely out of position or off balance.
Skilled in space and the second level. Nifty feet allow him to adjust and redirect. Plays with a good base. Hard man to work around. Angular build that can wall off and screen the defender and create running lanes. Has long arms and big hands to control a pass rusher, anchor, and stop a charge.
Explosive use of hands to lock out and get control. Position and adjust his hands. Ability to create separation. Can jolt and deliver punch. Especially effective when he can down block in the running game. When he shoves a defender you see them go flying.
Not fooled on twist stunts or games with linebackers. Very similar player to what the Cowboys have in Tyron Smith. Both have outstanding physical traits.
 #1. Trent Williams
Washington Redskins  (6-5  314)  7th Year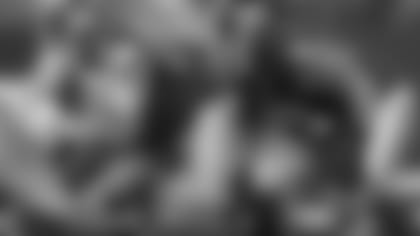 (Plays vs. Dallas on Oct. 29 & at Dallas on Nov. 30)
Outstanding physical toughness. Is an all-day battle for opponents to deal with. Plays to the echo of the whistle. Is one of the best finishers in the league. Exceptional foot speed and quickness.
Plays with a burst. Can be a handful when he gets in space. Plays on his feet, rarely on the ground. Lateral range when on the outside. Can be punishing. Plays with lower body strength and flexibility.
Not stiff moving at all. Effective punch with his hands. Can stop rushers in his tracks. Rare upper body power. Nice contact balance. Doesn't play over the tops of his feet or on one leg. When he gets ahold of his man the play is usually over.
Can mirror rusher easily. Light on his feet for size. Shows recovery when he does slip up. Have seen him push rusher past the quarterback in those situations. Able to adjust in space. Shows body control. Not flopping all over the place. Hard man to run around.
Gets movement in the running game. Will maul the defender. Plays with a combination of power and angles. Can get to the 2nd level without issue. Blocks well on the move.
Had some intense battles with DeMarcus Ware early in his career.