It's the eyes that grab you first.
They're hypnotic. They leap from the screen and lock on yours. Magnetically, they pull you in.
Then the player's voice. Telling his story in HIS voice. His story of overcoming. The fight each man finished to join his team, his brothers, to Finish THIS Fight.
If you're reading this, you are presumably a Cowboys fan. If you're a Cowboys fan, you have seen the two-minute videos telling these 11 stories: Tyron Smith, Morris Claiborne, Lance Dunbar, Dak Prescott, Keith Smith, Sean Lee, Dan Bailey, Cole Beasley, Brandon Carr, Dez Bryant and Jason Witten. You've seen them on YouTube, Twitter, Facebook, the Cowboys' website. Somewhere in the all-pervasive digital universe, all under the title #FinishThisFight.
They are brilliant pieces of storytelling, writing, filmmaking. You don't have to be a Cowboys fan to see that.
This is the story of the three young geniuses who thought of this campaign and brought it to life. They're as much of a team as the men whose stories they bring to your heart. They deserve for you to know THEIR story.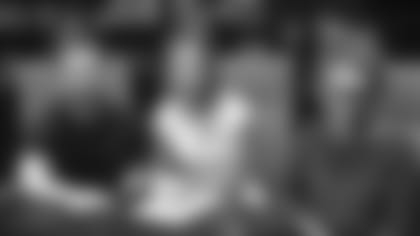 Kent Garrison is 29, a TCU grad (film and digital media). He's the video and music wizard. As a kid he wanted to be involved in sports broadcasting. CBS-TV sports producer Lance Barrow, a family friend, invited a 19-year-old Garrison to sit in the TV truck for the Cowboys big win over the Colts in 2006. That triggered an itch. Eventually, after working for the soccer team FC Dallas, Garrison discovered you could work for a team without being a player or coach. He interned with the Cowboys starting in 2013 before becoming a fulltime employee.
Lindsay Draper is 26, a 2014 Baylor grad (journalism with a minor in film and digital media) and the brilliant writer of most of the pieces. She started with the team's TV department out of school. Her job has evolved into one that also includes a lot of digital work.
[embeddedad0](Mickey Spagnola and I have the privilege of working with Mrs. Draper on training camp TV shows. Her maiden name was Cash, so I call her Moneypenny. She had to look that James Bond reference up. Now I think I'll just be getting her coffee.)
The team's move to The Star took her physically out of the TV department cubicles and put her near the internet and digital media staff, enhancing their communication. They all say that move may have made #FinishThisFight possible.
Taylor Stern is a 24-year-old graduate of New Mexico (digital media and journalism) who handled social media for the Cotton Bowl before joining the Cowboys in 2015. Her title is social media coordinator, and she can tell you exactly how many people have viewed, shared and liked these stories and on which platforms at what time of day and what the exact right minute is to release the next one to get maximum exposure.
The genesis of this series is the 2014 video #FinishTheFight that Garrison and Draper did on Tony Romo as he came back from injury to lead that team to a division title and into the playoffs. "The fan base loved it," Garrison said, "and we loved telling Tony's story."
The week before this year's game at Pittsburgh in November, Garrison was shooting video of Dez Bryant's weekly media session at his locker. He heard Bryant talking about being misunderstood.
"Wow," he and Draper said to each other, "wouldn't it be great to be able to give Dez a forum to tell his own story?" Hold that thought.
After the Dec. 1 win in Minnesota, their boss, senior director of media and programming Derek Eagleton, called a staff meeting. With the record now 12-1 and the playoffs nearly assured, management had decided to roll out another hashtag campaign.
"Everyone still like FinishTheFight?" he asked. "We're putting this on billboards, videos, all over social, everywhere. Have we got content we can latch on to it?"
Did they ever have content. It became #FinishThisFight.
Stern, Draper and Garrison started emailing each other. Draper wrote a few scripts overnight. Tyron Smith and Dunbar were first. Garrison shot them and put them to music. Eagleton said, "There's not a more talented video editor that I'm aware of anywhere. His vision is unbelievable."
Normally, projects go forward based on how the numbers project. Will they generate enough clicks, shares, likes for sales to generate income? Believe it or not, in the digital age, sometimes two minutes is just too long. Eagleton saw the first couple and said, "We're doing this. I don't care what the numbers are. This is our best work."
"That was just huge," Stern said. "It usually doesn't work that way. It told us they believed in what we were doing."
"Sometimes you have content you believe in so much, its value trumps the numbers," said Eagleton. "We just saw how special this could be."
(P.S.: The numbers are through the roof. Win-win.)
Now Draper's genius comes in. Stern said, "We wanted to create templates for these players to tell their stories, to share their adversities. Lindsay's best work is showing emotions."
Garrison adds, "Lindsay has the ability to give the players the right words that they were thinking but would never say about themselves."
Draper, though, was shy about taking her words to the players. "I mean, little blond me is supposed to go up to these players and ask them to read this? It was intimidating."
Not to Stern. "Look at what the players put on their social media. They want their stories told."
In the places where Draper may be shy, Stern is, uh, not always so much. And here comes the amazing part. Two weeks before this series started, it was still just an idea. They needed more recruits. On the flight home from Philadelphia on Jan. 1, Stern marched back to Prescott's seat, handed him her phone with the Tyron Smith audio and said, "Listen to this. We want to include you."
Prescott listened, and liked it … a lot. He passed the phone to other players. They were all in. All that was left was for Draper and Garrison to go sit in the corner and produce gold. And they have.
About the eyes. Originally the opening shot was an action shot. Garrison was shooting Tyron Smith at his locker and took a closeup. Looking at his eyes, Garrison said to himself, "Whoa. That's our opening."
And Eagleton added, "No narrator. We need these players telling the stories in their own voices."
If you have cried at some of these, no worries. Bryant watched Prescott's and cried.
This is brilliant work. Turns out the players are not the Cowboys' only great team.
Note: An edited version of this story will appear in next week's STAR Magazine.