IRVING, Texas– It's that time of year again, the anticipation building for Tuesday's start to NFL free agency, when the door to the personnel candy store swings wide open and teams are allowed to begin shopping.
The NFL's Black Tuesday, if you will.
That is, if you have the necessary funds available.
Because the start of free agency and the league year also commences the 2013 salary cap, so by 3 p.m. Tuesday teams must be under the expected hard $123 million cap. Your top 51 salaries can't add up to a dollar more.
Unless, of course, you are the Dallas Cowboys and the Washington Redskins. They have significantly less, penalized for perceived contract structure violations during the uncapped 2010 season. The Cowboys cap, minus the $5 million penalty, but plus a little surplus being carried over from last year is right at $120 million.
Now, they will be under despite having pushed another $10.68 million into the cap on Monday by franchising Anthony Spencer. But it won't be by much. They will barely limbo under the bar unless a veteran with a high 2013 base salary is designated a June 1 release, which allows teams to spread the remaining unaccounted prorated signing bonus, also known as dead money, over the next two years.
So when you ask, what are the Cowboys' free-agency priorities, the answer is … signing quarterback Tony Romo to a cap-lowering contract extension and Spencer to a 2013 cap-lowering long-term contract. That would create enough money to do a little nibbling in free agency and still have enough room for their draft choices.
And I said nibbling. No Brandon Carrs this offseason, the Cowboys' tenderloin of free agency last year. Think sirloin this year, if that.
That is why the NFL Draft will be so vitally important to the Cowboys, the least expensive way to improve this team going forward. With a hard salary cap, the draft always is, and now especially for a team that's just inching its chin under that restrictive bar.
For emphasis, consider that the Cowboys players with the top 10 salary cap hits for 2013 as of Friday afternoon occupy roughly $76.55 million in cap space. That is 64 percent right now of the approximate $120 million limit. For just 10 players, the list including Romo, Spencer, Carr, Doug Free, DeMarcus Ware, Jay Ratliff, Miles Austin, Jason Witten, Dan Connor and Orlando Scandrick.
But check this out. Let's add up the cap impact (high to low) of these 10 players acquired through the draft or as rookie free agents over the past three years who figure to have significant roles in 2013: Morris Claiborne, Tyron Smith, Dez Bryant, Bruce Carter, Barry Church, Phil Costa, Sean Lee, DeMarco Murray, Dan Bailey and Chris Jones.
Pretty important dudes, right?
Well, the total of their cap hits – eight sure starters, with Church and Costa prime candidates to compete for starting spots – come to $16.4 million, or 14 percent of the total cap.
A world of difference, no? Totally emphasizing how important it is to draft well.
And if you need further emphasis, just look at the top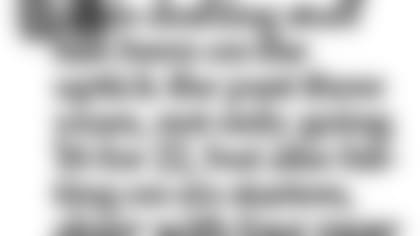 10 cap hits already projected on the books for 2014, evidence of what happens when you take from Peter in 2013 and pay Paul in 2014, 2015 and 2016: That would be $82.14 million of a cap that likely won't rise much at all, maybe to $126 million next year.
Guess what, you will immediately realize this top 10 – Ware, Carr, Free, Witten, Austin, Ratliff, Scandrick, Claiborne, Livings and Orton – does not account for Romo's expected extension, Spencer being signed to a long-term deal or Lee being re-signed.
So as you can see, even though the Cowboys will be emerging from under the $10 million cap-penalty cloud spread over two years, matters will be equally tight next year, too, if not worse.
The draft, the draft, the draft, and easy on the groaning, because of late (since 2010), the Cowboys drafts have significantly improved. They still have the rights to all seven draft choices from last year – five of the seven making the 53-man roster, with seventh-rounder Caleb McSurdy placed on injured reserve and Danny Coale landing on the practice squad.
The Cowboys still have rights to five of their eight draft choices from 2011, three of those guys considered starters –Smith, Carter, Murray – and Dwayne Harris likely to play a significant role on special teams and as the third receiver.
And from 2010, three of the six draft choices are still here, the first two picks, Bryant and Lee, prime starters and seventh-rounder Sean Lissemore considered a role player.
So if you add all that up, and we'll still count Josh Brent, the 2010 supplemental draft choice whose rights still belong to the Cowboys no matter how tentative his status is, the Cowboys have gone 16 for 22 in the past three drafts, hitting on 73 percent of their picks.
That's light years better than keeping score from 2007-09, when the Cowboys totaled 24 draft choices. Unless something happens between now and Tuesday, the Cowboys still hold the rights to only three of those players – Spencer, Free and Scandrick, a first, fourth and fifth, respectively. Others who played last year – Felix Jones, Mike Jenkins, Victor Butler and John Phillips – become unrestricted free agents on Tuesday.
And that means only owning rights to just 12.5 percent of the players taken over those three years. That's definitely not what you're looking to bat.
Think about this: Had the Cowboys allowed Spencer to walk, they would have lost the rights to three former first-round picks, and the barometer of success with first-round picks of course is signing them to at least a second contract.
So yeah, this drafting stuff has been on the uptick the past three years, not only going 16 for 22, but also hitting on six starters, along with four more potential starters – Costa, Church, Bailey, Jones – coming in as rookie free agents. [embedded_ad]
By comparison, four teams were selected randomly to detect how many draft choices they still held the rights to from the past three drafts. Baltimore was the exception, going 22 for 23 (96 percent). The others were in the Cowboys ballpark, the Giants going 17 for 22 (77 percent), Denver 19 of 25 (76 percent) and of all things New England hitting on just 19 of 28 picks (68 percent).
So unless something drastic happens over the next four days to open up cap space, as you can see, drafting well will be the most efficient route for the Cowboys to add significant talent this offseason and replenish their losses.
We always knew that, right? You have to draft well, but even more so now with the salary cap so static and the Cowboys roster so financially top-heavy … and escalating. These numbers are eye-opening.
Free agency, well, that tends to be fool's gold, an overly cap-expensive way to do business in the NFL.
But the draft, out of sheer necessity for the Cowboys, especially this year, that's just got to be solid gold.