I-10 WEST – Forever more, don't you dare think the Dallas Cowboys' antennas stop at the Texas borders.
In fact, after Friday night and Saturday afternoon stops in Arizona as we press on Road Trippin' 2015 toward Oxnard, Calif., these rabid Cowboys fans might have given new meaning to protecting your borders.
Simply overwhelming the turnouts our little road trip crew has drawn in the Grand Canyon State. The hugs, pictures and autographs seemingly never stop with Rowdy. Emory, what a ham. Ran out of his stack of bus pictures in hand. Jacob was so busy videoing the activity he wore down his batteries. And then there is the bus, the all-inclusive magnet.
But none of this should be that surprising. Thanks to the genius of Tex Schramm, the Cowboys' original president and general manager, the Cowboys had established a strong fan base in Arizona way back when, 20 years before the Cardinals ever migrated to the Southwest by signing up radio stations out this way to the Dallas Cowboys Radio Network Network.
Strong antennas establishing a wider fan base.
Why we witnessed this when the Cowboys would play the Cardinals, still in the NFC East at the time after moving from St. Louis, in Tempe, Ariz., at Sun Devil Stadium. Blue jerseys would dominate the stands. Hey, but giving the struggling Cardinals back then a chance to sellout games, to actually broadcast games on local TV. And as we also learned, it was closer for those Cowboys fans in El Paso to attend a game in Tempe than it was for them to drive to Irving, Texas. Seriously, 428 miles to 631.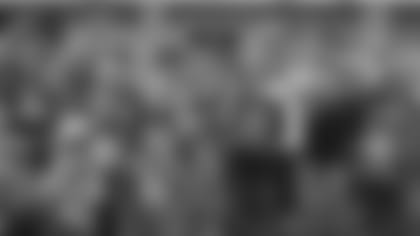 So not surprising Friday night, after the whirlwind afternoon in El Paso, we arrived to a jammed-pack parking lot in front of Famous Sam's in Tucson, Ariz., not just with cars, but with awaiting Cowboys fans for the Cowboys bus expected arrival thanks to the Tucson Chapter of Arizona's #1 Dallas Cowboys Fan Club. Theirs was an indoor/outdoor reception, complete with raffle items and a photo fundraiser for a friend of the establishment who just learned she is battling cancer.
And here we go again, after being met with maybe a thousand people in El Paso, we mingled with at least 400 Cowboys fans Friday night, signing autographs and taking pictures in the parking lot and some inside. They wore Rowdy out. Heck, Emory and I were ready to take a knee. Arrived around 6 p.m. (MST) and signed until it grew too dark to see our signatures, so a big shout out to chapter prez Cindy Regens for helping to get the word out. Water breaks were a necessity. Hey, it's Arizona, you know.
After a good night's sleep, off we were for Chandler, Ariz., a suburb of Phoenix, just a couple hour drive. Our first stop a branch of my bank. Guess who was going to be gone for five weeks and left his spending money in the drawer back home? Duh!
Walked in the bank and it went something like this:
"Nice shirt you're wearing," the guy seemingly in charge that Saturday morning said. "You a Cowboys fan?"
So began to explain, since he and the two tellers on duty couldn't see the bus from inside. The guy seemed intrigued, yet hesitant until he outed himself, saying, "I need a picture of that bus. I grew up a Cowboys fan."
He exited, I got my cash and there they were at the bus signing autographs for two young ladies who stopped, attracted to the bus. Then the teller at the bank came out, wanted a picture of the bus for her brother living in Minnesota "who has been a Cowboys fan his entire life."
No longer is this a surprise.
Neither would be the 100 or so people standing outside Coach and Willie's in Chandler cheering as Emory pulled up in front for our stop with the Phoenix chapter of AZ#1 DCFC. And right on time, Emory groaned again, "Oh no, here we go again," yet knowing he was going to love every minute of it.
As it turns out, thanks to AZ#1 prez Dallas Martinez (no joke, parents were big Cowboys fans and named him Dallas, instructing him growing up they only had two rules: Help clean the house and be Cowboys fans), there were 180-minutes to love. Yep, we all signed autographs and took pictures for another three hours, and thank goodness, indoors since the outdoor temps were flirting with 110. Families of Cowboys fans it seemed, with mom or dad – or both – paying it forward with their kids as their parents did with them.
Ran into a guy who missed us in Tucson and made the drive to Chandler. Met a guy who missed us in El Paso, but was coming to Phoenix anyway the next day. There was the lady with the huge Cowboys tat on her upper arm, including the #22. And the former serviceman, George Carrasco, who thanked me and our Talkin' Cowboys crew over the past couple of years on DallasCowboys.com for keeping him engaged while deployed overseas. Then the mother of Ashley, the Dallas Cowboys Cheerleader who danced through suffering a dislocated kneecap at last summer's camp opening ceremony before falling out, but not until out of sight at the completion of the routine.
The stories and connections are endless, and include that of Melissa, who lives on the White Mountain Apache Reservation near White River, Ariz., about 3 hours east of Phoenix who reminded Emory she once followed the bus on its way to a hunting trip in eastern Arizona a few years back. Big Cowboys fan, needless to say.
And when we pulled up, that was her truck we pulled up behind, "Dallas Cowboys, I (heart) dem Boyz" on the back window. Well, she did it again, following the bus faithfully as we departed the Phoenix area until she had to turnoff for home, probably about 20 miles worth. Indeed The Star has magnetic qualities.
Like I said, can't take Rowdy or The Bus anywhere, not even to Love's Truck Stop outside Phoenix, where, and get this, Emory put "only 105 gallons of fuel" in the bus. I'll let you do the math on what you think that might have cost. But without fail, here came the young lady from behind the checkout counter out to take a picture of the bus. Said she "just had to."
Of course she did. They all do. All those people in Tucson. All those people in Chandler. All the people, only some out of sheer curiosity, every time we stop the bus. Most, they just have to.
No matter if it's Texas, New Mexico and for sure, Arizona.
Next stop, Q's on Sunday, just the LA side of Santa Monica. California will not be any different.
Then Oxnard, you're next.