Con Tony Romo fuera por ocho semanas, ya todos han de saber de la nueva adquisición de los Cowboys… Matt Cassel. Él va a ser uno de nuestros mariscales de campo junto a Brandon Weeden y Kellen Moore. Quien tomará el lugar de Kellen Moore en el escuadrón de prácticas de los Cowboys será Efe Obada.
Brandon Weeden va a ser el mariscal de campo titular en este próximo partido de los Cowboys contra los Falcons. Weeden tiene la ventaja de que ha podido practicar con el equipo cada miércoles y por ende ya sabe como trabaja la línea ofensiva.
Aunque hemos ganado los dos últimos partidos eso no significa que no tengamos cosas que mejorar. Este partido contra los Falcons va a ser muy importante porque podremos evaluar que tan bueno está o no está nuestro equipo. No estoy preocupada en lo absoluto por nuestra línea defensiva porque ellos han hecho un trabajo espectacular y pienso que en estos momentos nuestra defensa es nuestro punto más fuerte. Pero lo que si me preocupa es nuestra línea ofensiva y mucho más ahora que Romo no está.
Honestamente si tengo fe en Weeden y creo que es capaz de hacer un buen trabajo así que él no me preocupa mucho. Mi preocupación está en que ahora sí que no podemos cometer errores. Nuestra línea ofensiva no puede seguir cometiendo los mismos errores que han estado cometiendo en estos dos últimos partidos. Ya no podemos seguir recibiendo castigos porque eso nos afecta demasiado. El lunes Garrett dijo que iban a trabajar en mejorar eso, así que de verdad espero que así sea.
Por otro lado Jason Witten estuvo practicando en el día de hoy pero con limitaciones debido a la lesión en su rodilla y en sus dos tobillos. Witten es un jugador muy apasionado por el juego así que es muy difícil mantenerlo fuera del campo. Estoy segura de que lo veremos jugar en este próximo partido.
Nuestros Cowboys han estado trabajando muy fuerte durante toda esta semana para que el domingo podamos vencer a los Falcons y no tengo ni la menor duda de que así será. 
Les mando un saludo y recuerda buscarnos en Facebook "Somos Cowboys", para la oportunidad de ganarte un balón autografiado por tu jugador favorito.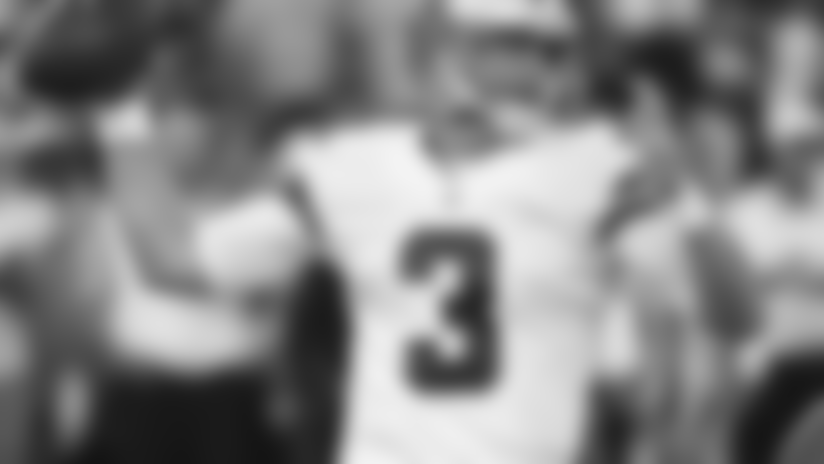 Want to be there when the Cowboys take on the Falcons? Tickets start as low as $29 for the Sunday, September 27th match up at AT&T Stadium. Instant ticket download available. Click here to purchase.